So you finally decided to join the "outdoor living movement" by building a new deck.  Decks are great because they can create an additional "room" for your family to enjoy.  But how much will it cost to build a deck?  Let's face it, we all want the best quality for the cheapest price.  One contractor may give you a quote of $8,000 while the next contractor says it will cost $26,000. Suddenly you know less than when you began!  Trying to hire the best deck contractor is no easy task.  I'll breakdown the basics to help you find the best deck builder.  And most importantly a contractor that is willing to build your deck at a fair cost.
Deck cost per square foot
I recently read an internet article that stated that decks can be built for around $12 per square foot. (Yeah, maybe in 1985). I got a good laugh and felt that I should give my audience a more accurate breakdown of deck cost.
Below is what it cost to build a deck in Milwaukee, WI area.  These prices include both deck labor cost and deck material cost. (Different regions can have varying prices but these Wisconsin deck building cost should hold fairly accurate throughout the country.)
– The cost to build a pressure treated deck is about $22-$24 per square foot
– The cost to build a cedar deck is about $25-$32 per square foot
– The cost to build a composite deck is about $27-$30 per square foot
– The cost to build a PVC Azek deck is about $35-$50 per square foot
– The cost to build a Ipe deck is about $55-$60 per square foot.
Factors that affect deck cost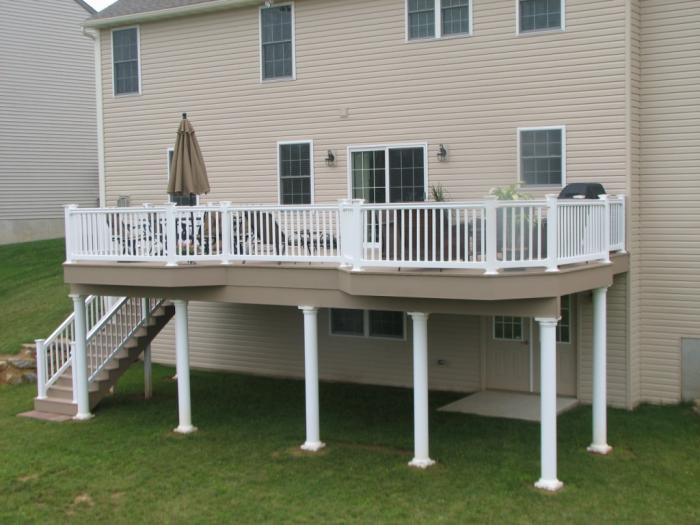 Think of the cost per square foot of a deck as the base price.  There are many factors and deck upgrade options that can make the price go up from here.
Factors that will make your deck price go beyond the standard deck price include:
 Cost of demolishing your existing deck before the new deck is built
 Upgrade handrail options; Stainless steel, cable rail, glass rails.
 There is a large range in price within each decking material. i.e. standard cedar vs select cedar. Also, quality Timber-Tech composite vs low quality home depot composite.
 Adding a custom built-in bench
A dding a deck pergola, gazebo, or arbor.
Additional cost if your deck is difficult to assess or on a hill
 Second level decks require more lumber and labor
 Installing decking at a 45 degree angle looks great but also cost significantly more
 Building planter boxes
 Which company you use will have the largest range in price. Try to separate the real professional deck builders from "Joe Pickup"
Make an educated decision on your deck contractor
If you buy deck material based on price alone, you'll get what you pay for.  Stay away from cheap decking material!  However, the most expensive deck contractor doesn't necessary give the best results.  Finding the best deck builder can be difficult.  Get several bids and usually the middle-ranged price is the best contractor to build your deck.
Deck Building in Greater Milwaukee, WI Area
TBG Deck Builders offer professional deck design and deck building services for clients in Milwaukee, WI and surrounding suburbs.  We have years of experience building custom decks for homeowners throughout SE Wisconsin and we are passionate about every deck we design and build.  Contact the top rated Milwaukee Deck Builder today to learn more about the innovative deck design and quality deck materials we can use for your deck.