---
Now wood decks and composite decks are no longer your only choices. Azek Decks are the next generation of decking that will transform everything you have ever known about deck building.  Check out some of our recent Azek decks built in the Milwaukee Area. TBG Deck Builders builds more Azek decks than any other deck building contractor in Wisconsin. Azek decking is made of cellular PVC. PVC virtually eliminates all the shortfalls associated with other decking materials. TBG Deck Builders is your Milwaukee, WI Area deck building professional. Contact us today for an Azek deck estimate.
---
Many deck products claim to be low maintenance. But these claims usually prove to be false. Unlike other decks, Azek Decks retain their beauty with hardly any effort. An occasional hose down with soap keeps them looking like new. And since Azek Deck's cellular PVC formulation doesn't contain wood fibers, mold and mildew won't become an issue.
Cellular PVC found in Azek decks resists natural and man-made stains. So you will no longer have to worry about wet leaves, fruit punch, ketchup, or even wine.
Azek's SCRATCH RESISTANCE
Azek's strong surface resists scratches from screws, tools and other gear during installation. Azek Deck resists damage from everyday things like lawn furniture, dog claws and general wear and tear.
Azek's WORKABILITY & BEAUTY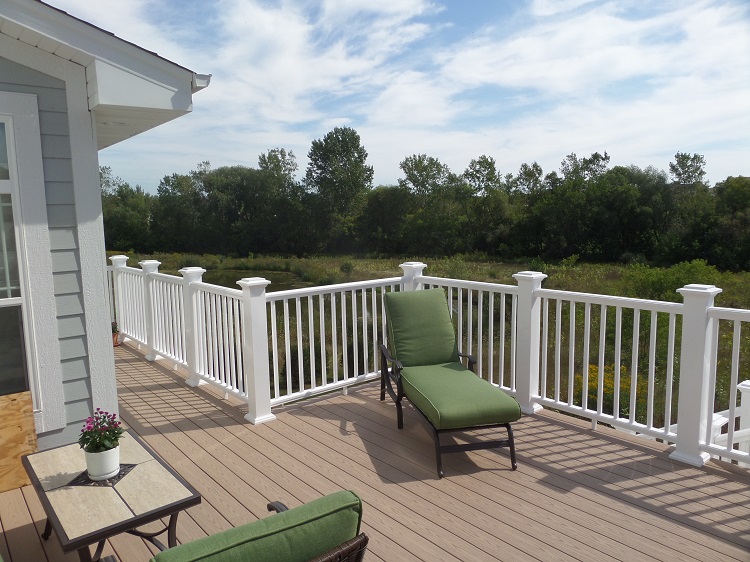 You will appreciate that Azek Deck has the workability of wood. You will love that it looks, feels and sounds like real wood. And you will appreciate that Azek Deck colors won't fade like composite decking.
The amazing look of Azek decking does come with a large cost. There are many factors
that effect the price of a complete Azek deck project. But to have a quality contractor like TBG Decking build your new Azek deck expect to pay $36-$50/square foot.
Contact TBG Deck Builders today for a free Azek deck estimate. TBG Deck Builders can help explore all your decking options while keeping your budget and personal tastes in mind. We offer free deck estimates in the Greater Milwaukee, WI Area. Please give us a call at 414-484-3289 or fill out the email form.
---
Superior deck construction and exceeding expectations has and always will be our main priority. Contact us today if you would like a custom built deck built by TBG Deck Builders.
---
Contact Form
Now is the time! TBG Deck Builders Provides Free Deck Estimates In Greater Milwaukee, WI Area