---
TBG Deck Builders builds more ipe decks than any other contractor in the Milwaukee, WI area. If you are going to invest in expensive ipe decking materials, then you need a contractor with the experience to build your deck the right way. If you are looking for the best deck building contractor than contact us today. We offer free deck quotes in SE Wisconsin and the greater Milwaukee, WI area. We look forward to building your new ipe deck for your entire family to enjoy!
---
Ipe (pronounced EE-pay) is the finest natural wood decking materials available. A Brazilian hardwood, also commonly referred to as "ironwood" because of its natural resistance to rot and decay. All the Ipe we use on our deck projects comes from responsibly harvested and well-managed forests to provide you with a truly renewable resource.
Both Strong and Beautiful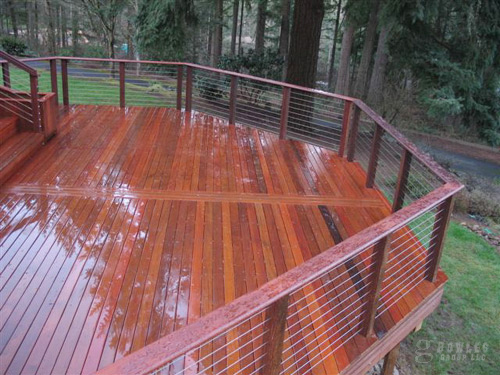 Ipe is often referred to be "the beauty and the beast" of decking materials because of its tough, resilient qualities and unique, exotic look. Along with being incredibly durable, it's also naturally resistant to rot, decay, wet conditions, and infestation by termites and borers. Additionally, it has a Class A fire rating — the same rating given to concrete and steel. This material is so strong that installation require pre-drilling holes prior to assembly to keep the integrity of the boards intact. Even though Ipe is a natural hardwood, it has properties that make it one of the toughest and longest-lasting decking materials available. Iconic decks like Atlantic City Boardwalk and Disney Park decks are built from Ipe. This is because Ipe holds up beautifully under extreme traffic and heavy use. Ipe is generally sealed or stained to retain its rich amber hue. Like all natural wood decks, Ipe must be treated every year to maintain its beautiful, rich appearance.
Cost To Build An Ipe Deck
The amazing look of exotic ipe decking does come with a large cost. There are many factors
that effect the price of a complete ipe deck project. But to have a quality contractor like TBG Decking build your new ipe deck expect to pay $50-$65/square foot.
Ipe hardwood decks offer a beautiful natural appearance that complements the outdoors. TBG TBG Deck Builders can help explore all your decking options while keeping your budget and personal tastes in mind. Contact us today to help create your ultimate outdoor experience with a new Ipe deck.
---
---
---
---
---
---
Superior deck construction and exceeding expectations has and always will be our main priority. Contact us today if you would like a custom built deck built by TBG Deck Builders.
---
Contact Form
Now is the time! TBG Deck Builders Provides Free Deck Estimates In Greater Milwaukee, WI Area